Fresh Paint Services
Faux Finishes
Faux finish projects cover a wide range of techniques. Rag finishes, faux suede and color washes are common methods to warm up your home and provide interest to your walls, ceilings, and furniture. Bits of vine and flowers, and even hand painted poetry can provide interest to your kitchen. A copper gilded ceiling or wall can provide a dramatic entryway to your business. Many times custom techniques are developed to meet the special needs of clients.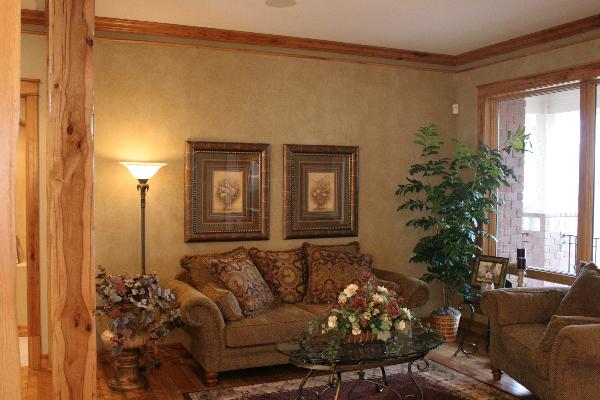 Murals
Murals have always been a favorite project at Fresh Paint with children's murals being the specialty. African plains, jungle scenes or fantastic forests of unicorns and butterflies. For the more adult venue vineyards, gardens and oriental scenes have been done in the past. Tromp l'oiel, a French technique for painting false windows and other scenes is also popular.
Concrete Design
A creative partnership has been developed between Gross Tile Custom Flooring and Fresh Paint. A few years ago Gross Tile decided to start offering their customers the option of Concrete countertops and shower and tub surrounds. They contacted Linnette Lee of Fresh Paint to create the custom faux finishes and staining techniques that would give the concrete a personal and artistic touch. This partnership has been met with great success. Fresh Paint has been able to customize colors and stain for clients and to also add many interesting decorative elements, such as stenciling, sports team logos and hand painted designs. Some of the innovative elements have been to recreate the look of stone and tile.
It's especially nice to show off what our artist can do with concrete, Mark says. We can match any backsplash, tile design or even floor color so your kitchen is like no one else's. February Hi-Lighter 2006
If you are in the market for a new and interesting countertop style. Concrete is something that you should definitely investigate, especially if you are looking for an interesting option for an outdoor kitchen. The flexiblity of having Fresh Paint customize the finish to your specific needs is something that is not available with other products.
Canvas
Stretched canvas artwork is a rapidly expanding part of Linnette's work. Her artwork has been on display at Monica's Bundt Cake Company and during the month of April and July 2006 her work will be at The Vagabond Coffee Shop. She can create a work of art to place in your home that expresses a client's personal vision or you can look at her own work and see if there is a piece that appeals to you.
Paneled murals were introduced at the Symphony House 2005 and have become very popular. These murals are usually a set of 3 canvas panels that connect to create one scene. These panels can enhance a large wall space or can be used to interconnect two areas within a home. Fresh Paint can help create the style, size and number of panels that would be appropriate for your home.